Feb 08, 2021
Grantmaking 2021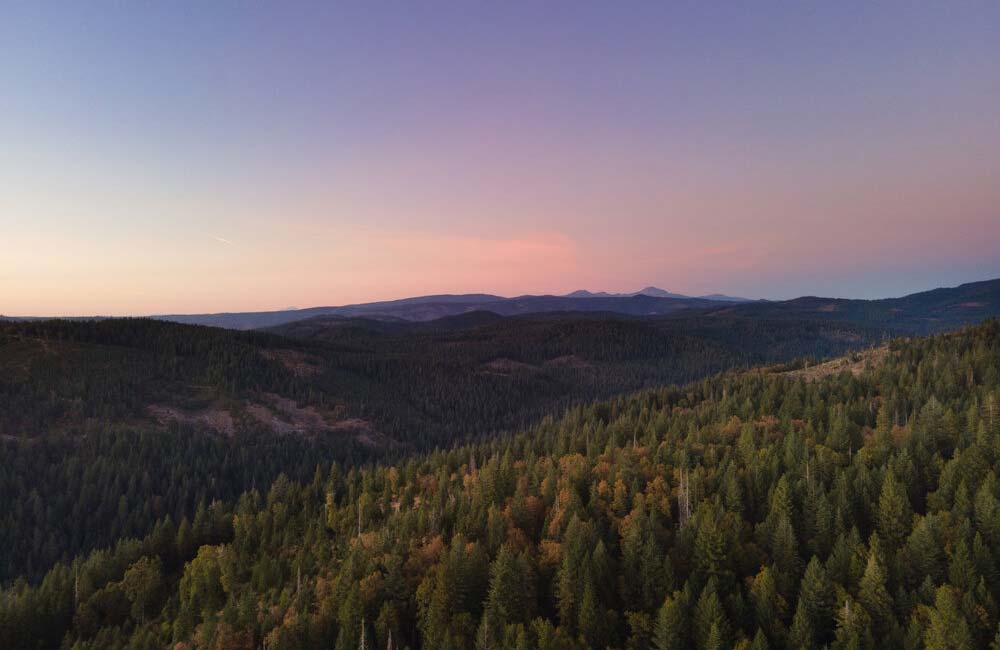 The Friesen Foundation Grantmaking 2021
The Friesen Foundation recently awarded $175,000 in total grant funding to three northern California 501c3 nonprofit organizations to design and build multi-use recreational trail systems near the Cities of Mount Shasta, Redding, and Jonesville, CA.
Families and communities face unprecedented challenges coping with the pandemic. The Friesen Foundation is committed to investing in organizations and projects that help address the financial, physical, and wellness issues associated with Covid-19. As part of the Friesen Foundation's new 100 Miles-of-Trail Initiative, the Mount Shasta Trail Association (MSTA), Butte County Resource Conservation District (Butte RCD), and Redding Trail Alliance (RTA) were awarded grants up to $75,000 each for projects that will help increase daily physical exercise for people of all ages, genders, and income levels. The three projects, described in detail below, have the potential to transform quality of life in local communities by improving access to trails and greenways, enhancing outdoor experiences, and stewarding public lands and open spaces.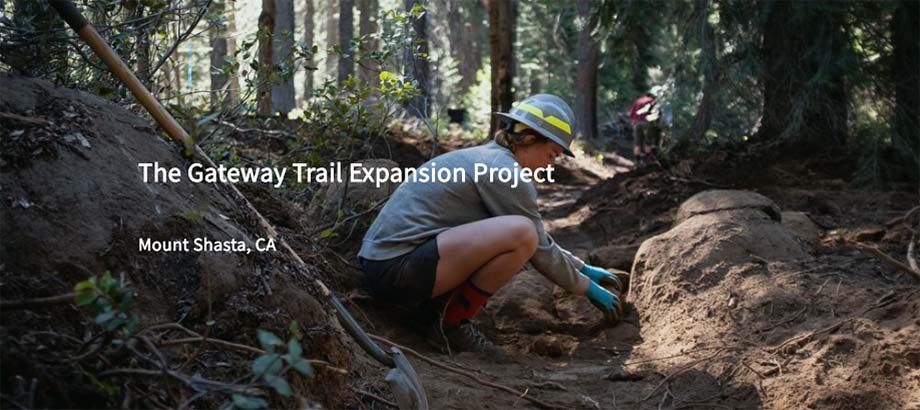 Objective: Construct a 45-mile network of professionally designed, multi-use trails that link the Mount Shasta Ski Park to the City of Mount Shasta and surrounding campsites, parks, and trail systems.
MSTA, in partnership with the US Forest Service and the Shasta-Trinity National Forest, will begin the next phase of construction in the fall of 2021 on the Gateway Trail Expansion Project (GTEP), adding over 45-miles of professionally designed, non-motorized trails to the existing Gateway System and connecting the Mount Shasta Ski Park and McBride Springs Campground with downtown Mount Shasta. According to John Harch, MSTA's President, "The average American child spends more than seven hours a day in front of a screen and only 4-7 minutes a day in unstructured play outdoors." Harch and MSTA crafted their mission around addressing this statistic and improving physical and mental health in rural communities, "We create trails to connect people to nature and communities to one another." The Gateway Trail project connects the City of Mount Shasta and south Siskiyou County to more than 5,000 acres of underutilized public lands for outdoor recreation, adding four new trailheads, comprehensive signage, and interpretive kiosks highlighting the unique cultural and geographic heritage of Mount Shasta. MSTA also secured a $1.1 million grant from the CA Recreational Trails and Greenways (RTG) grant program, which will generate prevailing wage and CA Conservation Corps construction jobs while injecting millions into the local outdoor recreation economy over the coming decades.
---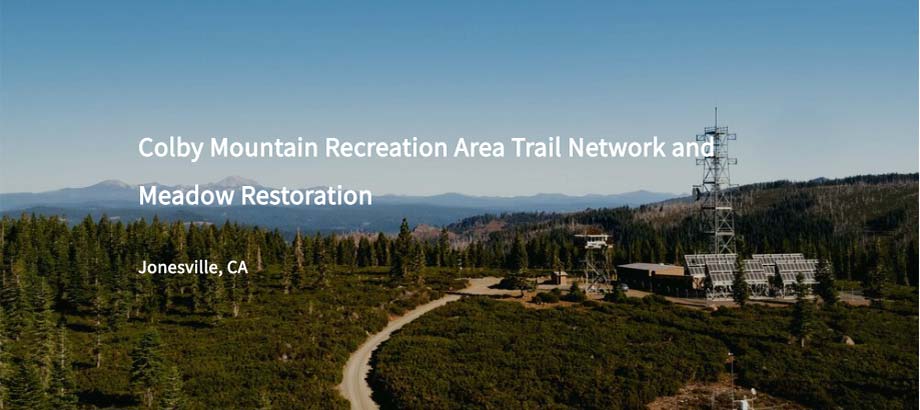 Objective: Galvanize local public-private partners around a vision to build a 40-mile trail network at the Colby Mountain Recreation Area: finalize trail corridor layout, conservation plans, and all permitting and agreements.
The Butte RCD was awarded funding to finalize a new master trail plan and design a conservation strategy for the Colby Mountain Recreation Area located in the Lassen National Forest and greater Lake Almanor recreation region. Partnering with the US Forest Service, Northern CA Regional Land Trust, Chico-Velo Cycling Club, and Sierra Buttes Trail Stewardship, this project lays out over 40-miles of multi-use trails accessed from the Jonesville Snowmobile Park and Cherry Hill Campground. Butte RCD Project Manager, Thad Walker describes the project, "Many of the new trails proposed under this project will be optimized for mountain bike tourism, catering to an economically significant user segment that is underserved in Butte County but is driving economic revitalization of other nearby Sierra Nevada communities." A key component of the project includes linking the town of Jonesville and 14 other communities to an on-going initiative lead by the Sierra Buttes Trail Stewardship (SBTS) called "Connected Communities," which is working towards a 300-mile trans-Sierra trail network. According to Greg Williams, Executive Director for SBTS, "Outdoor recreation and trail sports are a $200-billion economic driver nationwide and underutilized, sustainable resource that can be developed and maintained on public lands." The Butte RCD will leverage the Foundation's planning and design grant by applying for implementation funding to the Sierra Nevada Conservancy (SNC) and other state grant programs. The Colby Mountain Recreation Area project presents a compelling vision for enhancing and restoring a less-travelled recreation area in the stunning foothills of Mt. Lassen, located in proximity to Chico, Lake Almanor, and Redding.
---
Salt Creek Watershed Trail and River Bridge Project – Redding, CA
Objective: Secure public access to the Salt Creek Watershed Trail, construct 1.5 miles of trail, install a bridge over Salt Creek, and link the new trail system to the Upper Sacramento River Trail.
The Redding Trail Alliance will utilize Friesen Foundation grant funding to work with the City of Redding on completing a new trail network in the Salt Creek Watershed. The project leverages additional private match grant funding from the McConnell Foundation and includes the design and installation of a 70-foot prefabricated bridge over Salt Creek: a key salmon producing tributary to the Sacramento River. The proposed trail system connects to the Sacramento River Trail, adding a 1.5-mile scenic spur-trail that features stunning views of Salt Creek and the Sacramento River. Community Projects Manager for the City of Redding Travis Menne affirms, "For those willing to brave the tough terrain of the Salt Creek Trail, the reward is a hidden gem right in the city. Its unique rock features and natural beauty have inspired a group of public and private organizations to restore it, protect access, and create a photo-worthy destination for anyone in the community up for the challenge. Completing the project will address private property access issues, improve the safety and sustainability of the trail, and ensure it can be enjoyed by all in perpetuity.
---
Friesen Foundation
The Friesen Foundation is thrilled to be supporting such great organizations and visionary projects. John Friesen, Board Chairman and founder of the Friesen Foundation, congratulates MSTA, Butte RCD, and the Redding Trail Alliance on, "Bringing their respective communities together around a shared vision that will help improve people's lives through outdoor recreation and the associated health benefits of increased physical activity." As the Foundation's first major funding initiative, these projects reflect a long-term commitment by the Friesen family to invest in and help build vibrant, resilient communities in Northern California.
The Friesen Foundation is a private, independent foundation located in Redding, California. As a Northern California broad-based funder, grants are be awarded to 501(c)(3) nonprofit organizations, public education, and government entities. Launched in 2019, the foundation is currently developing a strategic plan, grant-making programs, and a long-term financial strategy. Grant awards average $10,000 to $50,000. Cash or in-kind match funding is encouraged but not required. The grant review team welcomes project ideas and letters of support demonstrating public-private partnerships, shared vision from diverse stakeholder groups, and multi-year collaboration. The Foundation supports a broad range of community development projects including outdoor recreation, environmental restoration, public health, civic planning, and cultural arts.
CONTACT INFORMATION:
Friesen Foundation
Kristen Gray
530-526-6364
kgray@Friesenfoundation.org